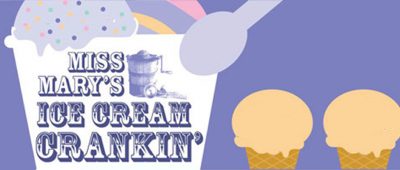 Miss Mary's Ice Cream Crankin' is the perfect way to spend a late summer afternoon! Teams of ice cream "crankers" will compete to make the best homemade ice cream and earn tasty awards by local judges. Corporate, civic, faith, and family teams are welcome, and categories include: Best Vanilla, Best Chocolate, Best Fruit, and Best Other Flavor.  Come out for the crankin' and sample over 100 flavors of homemade ice cream!
---
Special activities for kids will also be on hand, such as a bouncy house, face painting and kids-only ice cream eating and stacking competitions. Find out more at the
Miss Mary's Ice Cream Crankin' website here.
When: Sunday, August 25th, 2pm-4pm
Where: Roswell Square Park – 610 Atlanta Street, Roswell, GA 30075