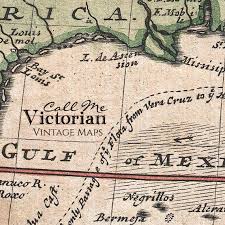 The summer travel season is one of our favorite times of year, whether we're taking long vacations or sneaking weekend trips in wherever possible.  If you're also a travel buff, why not incorporate maps of some of your favorite destinations into your home decor! We have some great ideas for decorating with maps, whether you're purchasing a new piece, or finding a new use for an older, or even vintage map you already have stored away.
---

Globally Inspired Window Shades
Do you remember those giant maps that the teacher pulled down like a projection screen in your elementary school classrooms?  You can use that same idea for a window treatment! You can try to find one of these old school maps by scouring the internet and antique stores, or you can easily make one yourself. Purchase a new shade then glue your map using mod podge – mod podge is the perfect adhesive for this because it is both glue and sealer in one.  This idea works great in a library or travel themed guest bedroom.
Unique Kitchen Backsplash 
Protect the wall behind your sink or stove in style with an easy DIY project you can tackle in an afternoon. Carefully cut a piece of plywood to the correct size for your backsplash.  Use a strong adhesive to attach a map of your choice to the wood, then seal the map with shellac or sealer – we recommend two coats. Once dry you can attach your backsplash to the kitchen wall by using drywall screws along the edges.  Now you can daydream about one of your favorite destinations while doing your everyday cooking!
Make Your Own Placemats
Re-energize an old set of placemats by adding maps from some of your favorite past trips! Measure and cut your maps to size, then glue them to the old set of placemats. Mod podge is again the best choice for an adhesive. Use a wallpaper roller when placing the map and roll slowly to avoid air bubbles, then place heavy books on the mats while they are drying. Once dry apply two codes of a heat resistant varnish to the mats.
Add Some Map Accents
You can also purchase small accent pieces for a room with a global theme. Coasters, lamp shades, and throw pillows with map prints are all easy to find. You can also add this look to a more neutral room in the form of kitchen and powder room towels, valances, or small decorative globes placed on shelves around a room.
---
Read on for more of our design ideas!