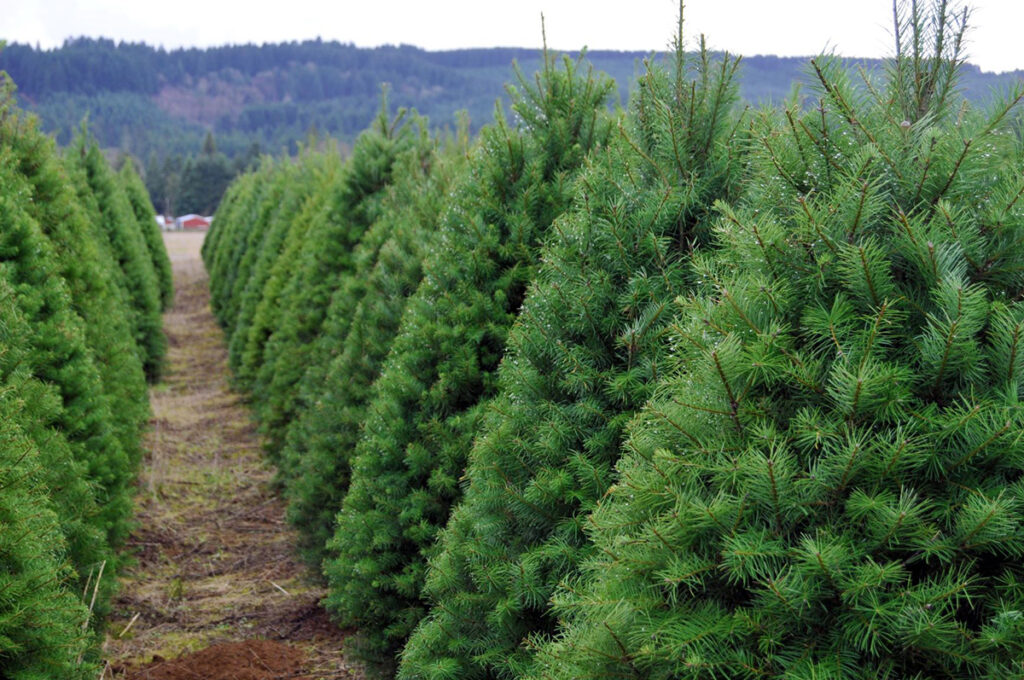 We know the decision about whether to decorate for Christmas before or after Thanksgiving can be a bit controversial for those who celebrate this December holiday. Some people prefer to wait until after the turkey leftovers are cleared out before getting started, while others barely take down the Halloween decor before throwing up a tree. Even if you prefer to wait until December has fully settled in, now is a great time to go ahead and plan how you will decorate, including where you will purchase your live tree.
---
Of course we know many of you use one or more artificial trees instead, and they do have many advantages. If you decorate early you do not have to worry about the tree aging quickly after being cut, there are no pesky needles to vacuum and artificial is definitely the best option if you suffer from allergies. Around 75% of American homes that partake in the Christmas tree tradition do so with an artificial tree, so you're in good company.
But for some Christmas celebrators, there is just no substitute for a real, live tree, filling your home with the scent of cedar or evergreen. And even at only 25% of Christmas celebrants who choose a live tree, that still leaves quite a few of us who are already longing for that fragrant scent and nostalgic appeal. Your local big box hardware and grocery store will likely devote part of their parking lot to pre-cut trees for busy shoppers, but if you enjoy the full Christmas tree farm experience of cutting your own or at least picking it out for an expert to make the cut, here are a few fun places just outside of the city where you can find your tree. Many will be opening for the Christmas tree season just after Thanksgiving, while others will wait until the first full weekend in December. Be sure to check the linked websites for all of the details on each farm.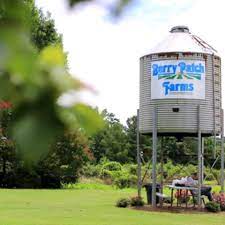 Berry Patch Farms in Woodstock has been in the blueberry business since 1978, and 10 years later they added Christmas trees to their seasonal, pick-your-own fun. Grab a saw and cut down your own Leyland Cypress grown at the farm, or you can choose a pre-cut Fraser Fir. Tree stands and accessories are also available, along with a variety of fresh wreaths to complete your Christmas decor. After cutting down your tree, you can rest for a bit, while sitting on the porch eating a warm funnel cake and sipping some hot apple cider! The farm's opening day for this year's Christmas tree season will be the day after Thanksgiving.
Berry Patch Farms – 786 Arnold Mill Road, Woodstock, GA 30188 Check their website for updated daily schedules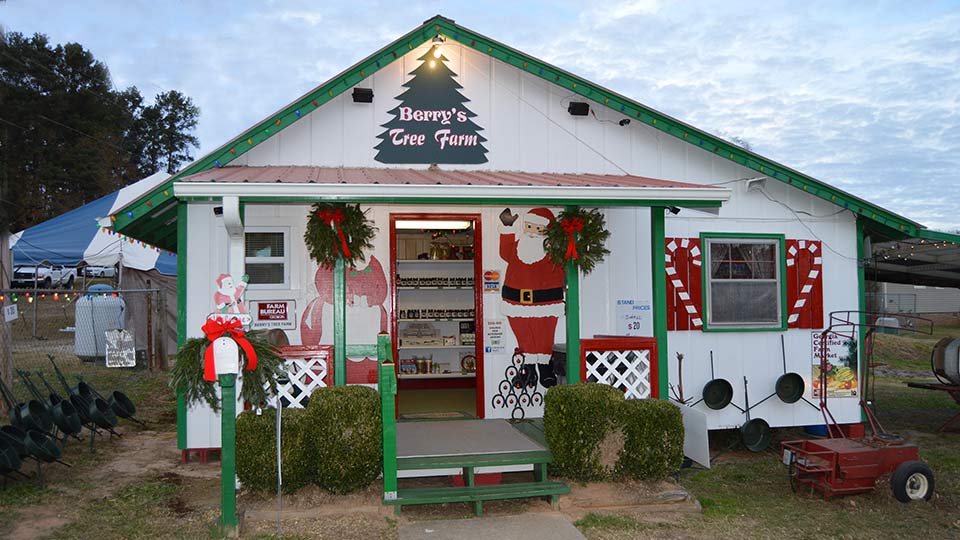 This 206 acre farm located between Conyers and Covington was first purchased by the Berry family in 1894, where the original family owners started a dairy and crop farm. When the final cows were sold in 1977, the Berry family started planting trees and the farm pivoted to the Christmas tree business. The first trees were ready for sale in 1983 and the farm has been going strong ever since.
---
The farm sells Leyland Cypress, Murray Cypress, Carolina Sapphire, Cedar, Virginia Pine, Fraser Fir and Blue Ice varieties, and the farm offers flocking of all its trees for a fresh snowy look. You can also purchase tree stands along with fresh wreaths and garland at the farm, and check their website for scheduled visits from Santa for the kiddos.
Berry's Tree Farm – 70 Mt. Tabor Road, Covington, GA 30014 Call or check Facebook for their daily schedule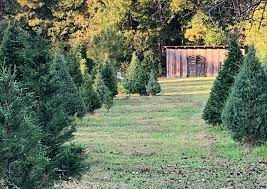 The family-run Coker Tree Farm has been serving Marietta and the metro Atlanta area for almost 40 years, growing Murray Cypress, Leyland Cypress and Carolina Sapphire trees on site for you to cut, and their elves will shake and bail your tree free of charge. Fraser Firs are also delivered regularly from North Carolina for those who prefer a pre-cut tree, but the farm wants everyone to be aware that due to a Fraser Fir shortage this year, these will be in short supply, and they will only have Fraser Firs that are 8 feet tall and under. Opening day at the farm is Friday, November 26th.
Coker Tree Farm – 2280 Macland Road, Marietta, GA 30064
Open Friday – Sunday, 9am-6pm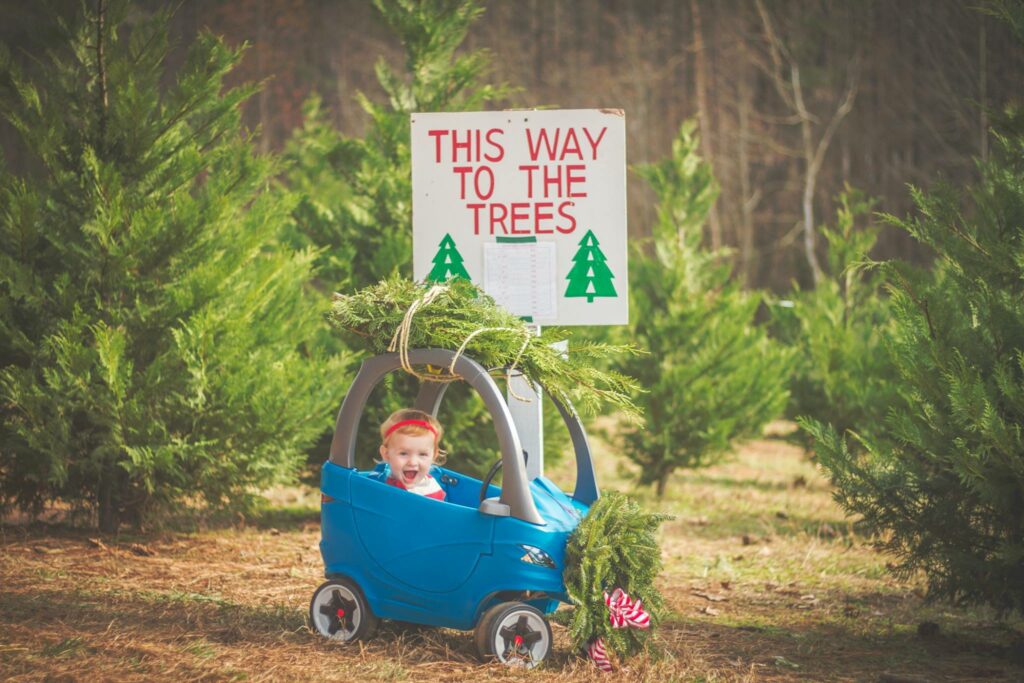 If you are conveniently located to the northern suburbs, head to Milton to Hunter's Christmas Tree Farm, which has been serving the north Fulton area for over 30 years. Beginning on opening day which is November 26th, you can cut your own Leyland Cypress from the tree field, or pick up a Fraser Fir shipped fresh down from the mountains. You can also purchase your tree stands, and live wreaths and garland here. Santa makes several visits to the farm each year, so check their website for this year's schedule. You'll also be able to see when pony rides will be available for the kids. Everyday you can enjoy complimentary hay rides, hot chocolate and cookies.
---
Hunter's Christmas Tree Farm
– 14680 Wood Road, Milton, GA 30004
Open Saturdays, 9am-dusk and Monday, Thursday, Friday, 4pm-dusk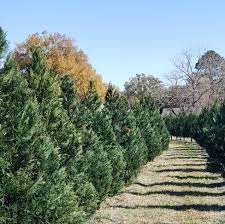 This fifth generation family farm is located just outside Fayetteville, and will be opening for the Christmas tree season on Thanksgiving Day. The farm grows Leyland Cypress, Murray Cypress, Virginia Pines, Carolina Sapphires and Blue Ice varieties, but like most of the Christmas tree farms around town, they also bring pre-cut Fraser Firs in for those who prefer them. Enjoy a hay ride around the farm when you come to pick out your true, and make a stop by the farm's Market Store.
Minter's Farm – 283 Hill's Bridge Road, Fayetteville, GA 30215 Open Monday – Friday 10am-6pm and Saturday – Sunday 9am-6pm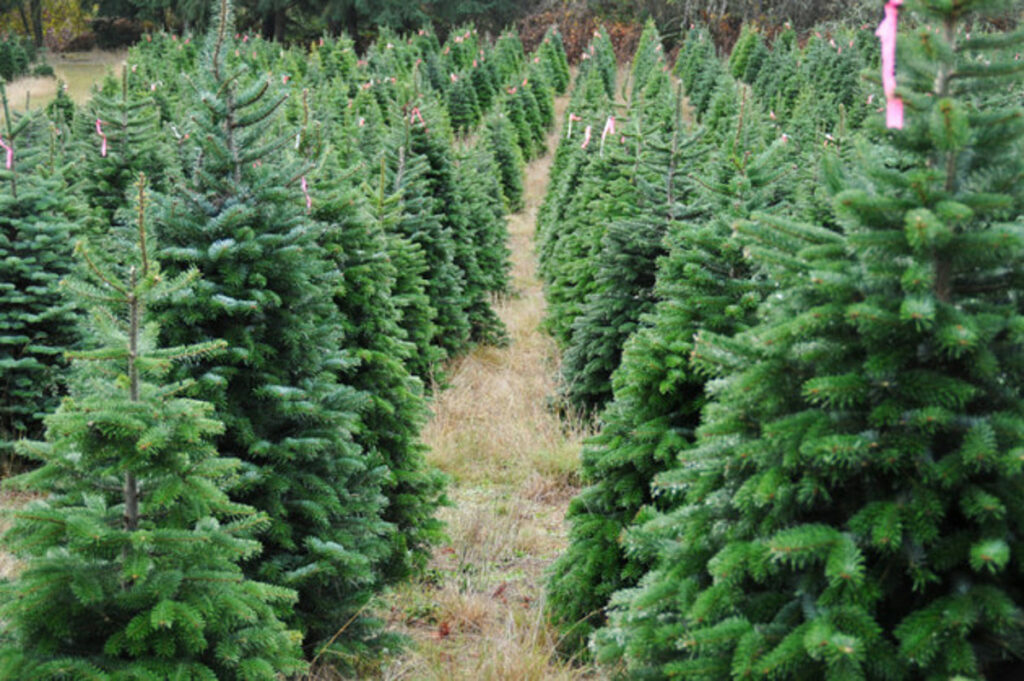 Just west of the city you can find a variety of Christmas trees at Sleepy Hollow Farm in Powder Springs. You can cut your own Leyland Cypress, Carolina Sapphire or Blue Ice, and freshly delivered Fraser Firs are also available. If you want to start your live tree decorating before Thanksgiving this year, Sleepy Hollow is the place for you, as they will open for the 2021 season on Saturday, November 20th. On weekends kids can play on the farm playground with the purchase of any tree, and visit the farm's resident animals. Also on weekends the farm's country store is open, where you can purchase locally made jams, jellies, salsas and sweet treats.
---
Sleepy Hollow Farm
– 628 Sleepy Hollow Road, Powder Springs, GA 30127
Open Tuesday – Friday, 2pm-6pm and Saturday – Sunday, 10am-6pm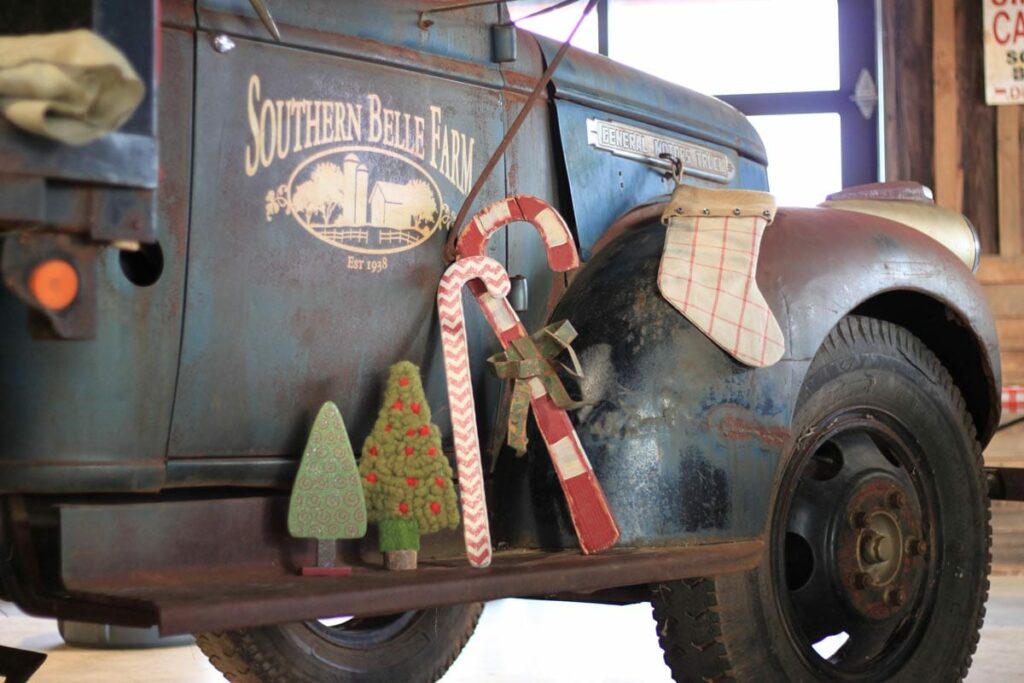 While many of the Christmas tree farms around Atlanta specialize specifically in Christmas trees, Southern Belle Farm is open for farm fun year round, and many of their activities are still open throughout the Christmas tree season. When you come to pick out your tree, your family can also enjoy hay rides, a petting zoo, and all of the same kids activities that are open throughout the fall such as the jumping pillow and giant slide.
Southern Belle Farm – 1658 Turner Church Road, McDonough, GA 30252 Check website for daily hours and Santa schedule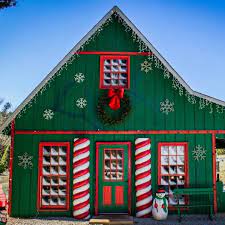 Located south of the city in Stockbridge, Sugarland Christmas Tree Farm has been in business for three generations. They offer Virginia Pine, Cedar, Leyland Cypress and Blue Ice tree varieties for you to cut, along with pre-cut Fraser Firs fresh from Virginia. Santa holds regularly scheduled visits, and no visit to Sugarland is complete without a trip to the Sugarhaus, where you will find handcrafted floral arrangements, fresh and artificial wreaths, lights, ornaments, stands…..and of course, a delicious cup of hot chocolate! The farm will open for the season on the day after Thanksgiving.
Sugarland Christmas Tree Farm – 3933 Highway 155, Stockbridge, GA 30281
Open Monday – Friday, 10am-6pm and Saturday-Sunday, 9am-6pm

Thompson's Tree Farm in Lawrenceville has all the favorite tree varieties, such as Leyland Cypress, Murray Cypress, Blue Ice, Green Giant and Carolina Sapphire, along with North Carolina Fraser Fir Pine garland and wreaths. While shopping for your tree you can enjoy free cider and hot chocolate in the gift shop then visit the farm's pet goats and cows.
---
On weekends there are also hayrides, s'mores and marshmallow roasting at the firepit and even a visit with Santa. Thompson's Tree Farm is another location that will be opening early this year on November 20th, in time for you to get your tree up before Thanksgiving.
Thompson's Tree Farm – 1829 Prospect Road, Lawrenceville, GA, 30043
Open Monday – Friday, 12pm-6pm and Saturday – Sunday, 9:30am-6pm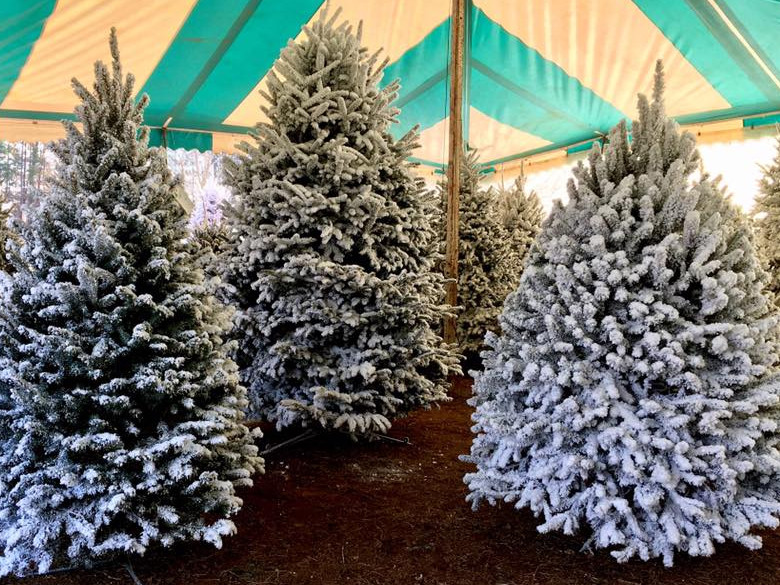 The farm at Yule Forest opens for the season on November 20th, and will include Leyland Cypress, Green Giants, Virginia Pines, Blue Ice, Carolina Sapphire and Burkii Cedar for you to cut yourself. Additional Blue Spruce and Fraser Firs will be available on site if you prefer a pre-cut tree. Trees from Yule Forest can even be purchased flocked to give the beautiful appearance of a coating of freshly fallen snow. Fresh wreaths and garlands can also be purchased at the farm.
Yule Forest – 3565 Highway 155 North, Stockbridge, GA 30281 Open daily 9am-6pm