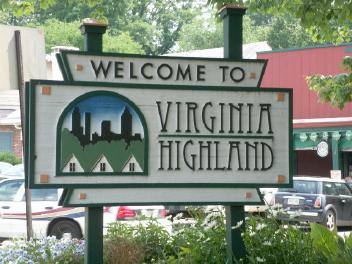 We absolutely love Virginia Highland, and we're not alone – this historic hidden gem is one of Atlanta's most beloved neighborhoods.  Residents and visitors alike enjoy the easily walkable thoroughfares lined with shops and restaurants, located just steps from tree-lined streets filled with stately homes, mid-century Craftsman bungalows and newer modern construction.
With its sidewalk cafes, upscale dining and a lively bar scene, it's difficult to narrow down the food choices to a list of favorites, but the BrownDaniel team has managed to agree on several amazing dining choices.  Read on for list of local Virginia Highland favorites!
---

George's Bar and Restaurant
According to their motto, George's has been "serving the best burgers and coldest beer in town since 1961," and we're inclined to believe them! For almost 6 decades, the restaurant has been run by the same family, a father and son who have also had many of the same employees for decades. Patrons love people watching (and being watched) from the patio, and the simple menu of burgers of all kinds along with other traditional deli favorites.
George's Bar and Restaurant
Where: 1041 North Highland Avenue NE, Atlanta, GA 30306
Must Have Menu Items: All of the burgers are amazing, and have been voted Best in Atlanta many times over.  We also love the wings, chili and beer selection.
---
La Tavola
Forget for a moment you're still in Atlanta as you dine in an authentic Italian trattoria, right in the center Virginia Highland. La Tavola has been recognized nationally by Zagat, Reader's Digest and Eater magazines, and locals know exactly why.  The menu features all of the Italian classics you've come to expect, along with seasonal specialities featuring local produce and expertly curated wine selections.
La Tavola
Where: 992 Virginia Avenue NE, Atlanta, GA 30306
Must Have Menu Items: Start with the Salumi Board, featuring house-cured and artisanal meats, then indulge in the Squid Ink Spaghetti.
---
Mali
Tucked away in a quiet corner of Virginia Highland, Mali is a hidden treasure, with exquisitely crafted sushi and some of the most authentic Thai dishes to be found in Atlanta. With as much focus on service and presentation as on flavor and freshness, Mali is a perennial favorite among locals, for anything from a casual lunch to a special date night out.
Mali
Where: 961 Amsterdam Avenue NE, Atlanta, GA 30306
Must Have Menu Items: Start with a Virginia or Midtown Sunset Roll, then go for the Salmon in Green Curry, accompanied by a Pomegranate Margarita.
---
Murphy's
Located in the heart of Virginia Highland, Murphy's has been an Atlanta favorite for almost 30 years. The menu features American contemporary comfort food that utilizes fresh, local ingredients. The weekend brunch is a destination for Atlantans and tourists alike, and the restaurant is also known as a local bakery and wine shop, providing special orders for area events. Check out the weekly wine tastings and get recommendations for perfect wine pairings.
Murphy's
Where: 997 Virginia Avenue NE, Atlanta, GA 30306
Must Have Menu Items: We love the Shrimp & Cheddar Grits, and the Bonzo Cake, a delectable combination of fudge brownie, cheesecake and dark chocolate mousse.
---
The Original El Taco
The Original El Taco is part delicious Tex-Mex restaurant and part hip neighborhood bar.  If you're looking for a family-friendly taco spot, you've come to the right place!  But if you're looking for a place to grab one too many margaritas with your crew….well you're still at the right place! And the tacos are as good as the drinks!
The Original El Taco
Where: 1186 North Highland Avenue NE, Atlanta, GA 30306
Must Have Menu Items: The Queso Royale and Mexican Pizza are our favorite munchies, but let's be honest, you came for the margaritas!
---
For more information about the Virginia Highland neighborhood and to see our featured area listings, visit our

Virginia Highland community page!