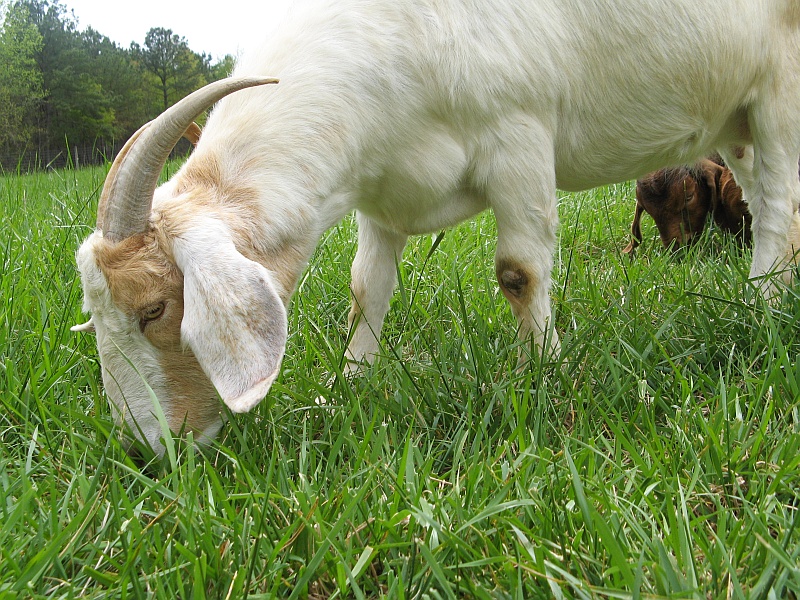 Have you heard about the new trend in eco-friendly lawn care?  It's goats! Goat rental services are popping up across North Georgia, and it is becoming more and more common to see these munching herds inside the perimeter, cleaning up large public spaces, residential lawns, and even large city parks. In fact, goats played a big role in the landscaping and grounds cleaning around the new Mercedes-Benz Stadium. We looked into this new environmentally conscious trend, and we're happy to share what we've found!
---

Why Goats?
Goats are fantastic at clearing large areas that have become overrun with vegetation, such as the shoulders of roads and undeveloped fields. They eat a lot – up to 10 pounds of vegetation in a day, and they'll chow down on almost anything. Their stomachs can easily digest everything from poison ivy to stubborn invasive species like kudzu and Japanese honeysuckle. Goats are also able to move across steep and rocky inclines, easily reaching grass and weeds that would be difficult to tackle with a traditional mower. They even aerate and fertilize as they go, with their sharp hooves churning the soil making it easier for water and nutrients to penetrate. And goats produce nitrogen-rich waste that is perfect for greening up your grass.
Environmentally Friendly Alternative
Unless you have a small lawn that can be taken care of with an electric or push-reel mower, your lawnmower (or the ones used by your traditional lawn care service) is running off of gas, and emitting pollution into the air. Because their manure is so well-suited for fertilizing lawns, a herd of goats also alleviates the need for using additional chemicals and fertilizers on your lawn.
The Cons of Using Goats
If you are using goats to trim your lawn, you shouldn't expect to see a well-manicured, golf-course perfect yard left behind. Goats eat as they go, but they do not trim the grass evenly. They are climbers, so you'll need to make sure that anything they can climb on is inaccessible, such as cars, decks and childrens' playsets. Goats also have a natural tendency to roam. Most services will bring a portable electric fence and possibly herding dogs if you do not have a fence around your property already, but such containments are not fool (or goat) proof.
Where Can YOU Get Your Goats?
Get Your Goat Rentals – This company services the northern part of the city and the northern suburbs.  They also employ Livestock Guardian Dogs as part of their team to keep their goats happily munching in the right place!
Glitzy Goats LLC – The goats at Glitzy Goats reside in Acworth and can be rented for goatscaping in Cobb, Cherokee, Bartow, Paulding, Polk & Floyd counties.
Red Wagon Goats – Located on the east side of town, Red Wagon Goats services most of Metro Atlanta, and will even host a goat yoga event at your location while the goats are working on your property.