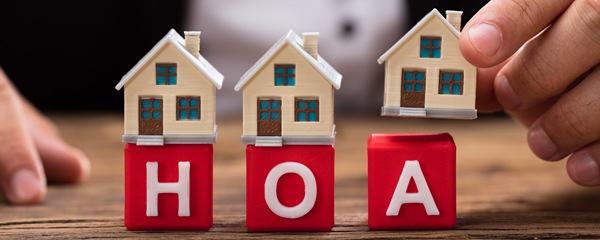 If you are currently or soon to be shopping for your first home, or your first home in a planned community, you may want to familiarize yourself with homeowners associations, or as they are more commonly referred to, HOAs. HOAs are the management organizations that create and enforce rules governing condominium and home communities.
HOAs draw mixed feelings from homeowners. Some people chafe at the rules and restrictions placed on something that they own by seemingly unrelated parties. Meanwhile, other people consider HOAs to be essential  for maintaining home values and contributing to the appearance of their community. It's good to keep in mind that these organizations are actual legal entities, and if you purchase a home in an HOA-governed community, membership is mandatory.
---

HOA Benefits
The goal of an HOA should primarily be to protect, enhance, and maintain a community's homes and their property value. It's no secret that a significant amount of your home's value comes from the houses and area that surround it, so it's in the best interest of everyone to hold all homes in a community up to a certain standard. Other benefits are often a part of belonging to an HOA – from landscaping of common areas to brokering discounted trash-pick up and maintaining swimming pools and athletic courts. Code enforcement also tends to fall on a neighborhood's HOA. If someone is continually parking their car on your street or builds a poorly constructed and unattractive fence in their front yard, code enforcement violations will follow, often involving fines and a requirement that changes must be made.
Do You Have to Follow the Rules?
You really should. You can break the HOA rules, but if the violation is something obvious, there's a good chance you'll be caught and face a warning from the HOA, then a fine if the situation is not remedied. Some HOAs skip the warning completely and issue fines on the first offense, as they see the list of rules that is provided to all home buyers at the time of purchase as the only warning needed. It is important to note that HOA rules are in fact a legally binding contract that you agree to when signing membership forms. In some localities, local police are called in to enforce HOA rules, such as for neighborhood speed limits and dog leash laws.
Common HOA Rules
HOA rules vary by community, but some common ones tend to show up whether you live in an in-town townhouse community or an expansive suburban neighborhood.
Landscaping and Home Appearance
The main goal of most HOAs is to preserve the appearance of the community.  So it's no surprise that overgrown lawns and unkempt exteriors will be against the rules. Read the fine print in your HOA rulebook though, because some even specify what type of plants you can and cannot plant on your property. More common are simple rules about how high grass may grow and what colors you may paint your front door.
Rentals
Many HOAs pass rules surrounding the renting of homes in their communities. Before you turn your basement into an Airbnb, or purchase a new home with the intention of using your current one as an investment rental property, you definitely want to verify what the rules are concerning such rental situations. In some communities a certain percentage of homes may be rented at a time, which means there may be a waitlist for you to join in order to rent yours.
Noise
The most common rule HOAs establish regarding noise is quiet hours in which disturbances like loud music and barking dogs are forbidden. The ordinances are normally designed to mirror the local municipal noise ordinances in the surrounding town, but may be more restrictive. If you are purchasing a condo or a townhouse where walls are shared, you can expect more detailed and strict rules about noise.
Vehicles
Homeowners associations often have rules specifying what sort of vehicles are allowed to be visible in front of your home, and how many of them you can park in your driveway outside of a garage. Commercial vehicles, boats and RVs may be completely forbidden, and you will normally be restricted from parking along the street. If you are purchasing a condo, it is even more important to learn the rules regarding vehicles, such as how many spaces are assigned to your unit, and where guest parking is allowed.
Pets
Most HOA rules about pets are only concerned with where you walk them and whether or not they must remain on leash. Occasionally a community will have additional restrictions regarding how many pets you may own, and what breeds of dogs are forbidden. If you hope to adopt a non-traditional pet, you will definitely want to check for HOA rules – backyard chicken enthusiasts and reptile lovers may find that their friends are not welcome in the new neighborhood.
Holiday Decorations
Tasteful holiday decorations are normally welcome in even the most luxurious neighborhoods, but the local HOA may specify the timeframe in which holiday decor may be on display. The size of an inflatable Santa may be regulated, along with at what point in January the colorful holiday lights must come down. You should also find out your new HOA's opinion regarding flags and patriotic decor. Many do not allow flag poles to be installed in the ground, but a smaller display on your porch might be fine.
Read the Fine Print
Love them or hate them, HOAs are a fact of life in the modern neighborhood. Before making your home purchase read the HOA rules and regulations closely so that you know what you are agreeing to when you sign on the dotted line. Being informed and knowledgeable will help you avoid hard feelings and fines further down the road.