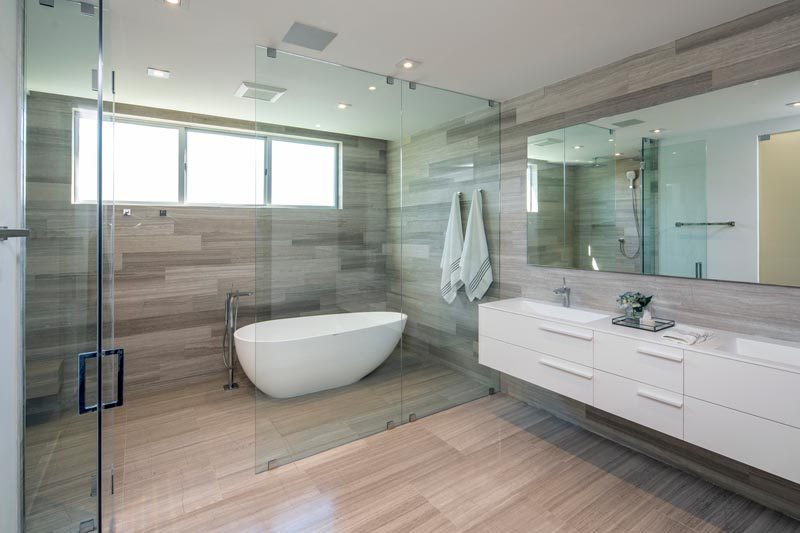 Wet rooms are quickly becoming one of the hottest trends in bathroom design. They've always been around, mostly as a solution for cramped quarters where space for a bathroom is limited, but this style is now being seen in newly built high-end homes, and in luxury remodels. At this point, some of you may be asking, "what exactly is a wet room?!" While they can vary in design, wet rooms are bathrooms whose most defining characteristic is a shower area that's not completely enclosed, or not enclosed at all. Sometimes, there may be a glass panel separating the sink and toilet from the shower and bath, and in other wet rooms, the entire room itself becomes the shower.
---

Advantages of a Wet Room
Wet rooms can add to the resale value of your home. If you're considering putting your house on the market in the near future, a luxurious wet room can be a pleasant surprise for potential buyers who appreciate a modern design and cutting edge trends. A wet room can give a bathroom a spa-like feeling, turning the entire room into a relaxing oasis.
Aside from the advantages for future owners, there are a lot of reasons for you to want a wet room in your home now. Wet rooms are easier to clean than traditional bathrooms, since there are fewer permanent fixtures that get in the way of a proper deep cleaning. They can make a small bathroom seem more spacious because you aren't closing part of the room off for a bathtub or a shower. And, wet rooms offer improved accessibility if someone in your household has mobility issues, since there is no separate shower to step in and out of.
Things to Consider
Wet rooms are not something you should install/remodel yourself, as they require professional expertise in order to avoid exposing your home to water damage. Effective drainage is critical – floor grading needs to allow for the water to flow easily to a central drain without collecting in spots leading to odor and mildew. Waterproofing is also important, since you don't want the moisture from your wetroom to seep into the walls of your adjoining living spaces. This isn't as simple as just covering the walls and floor of your wet room with tile. The room's walls and floor require a water-tight membrane before tiling, which should be installed by a professional who has experience with wet rooms.
---
Read on for more of our recent blogs about home improvement and remodeling!
Quick Tips for the DIY Painter