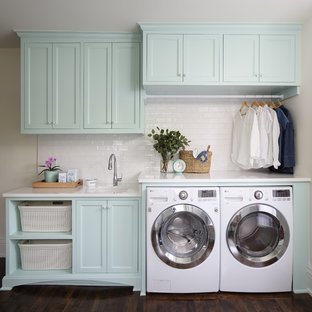 Does your home have unfinished or unused basement space? Even homes sold with "finished" basements often have one or two rooms that have not been finished fully, or have simply been left empty and unused. While the average basement remodel costs anywhere from $5,000 to $20,000, the return on investment can be as much as 70% when it comes time to sell your home. What types of rooms are the best options when you decide to finish out your space? Read on for some of our top picks for basement transformations.
---

Luxury Laundry Room
Over 90% of home buyers state that a dedicated laundry room is a must have when purchasing a home. If you've been making do with a small laundry nook with just enough room for a stackable washer and dryer, finishing and/or expanding an used room could make your laundry less of a chore, and can be a major selling point to buyers later.  In addition to appliance space, you'll want to include a sink if possible, plenty of cabinets, and ideally, enough counter top or desk surface to easily fold, sort and stack laundry until it can be put away.
Install a Theater
Maximize the darkness in a windowless basement room by using it for a home theater. Install a riser to add two rows of reclining seats theater style, and choose recessed fixtures with soft lighting that can be dimmed. A projector and large screen is a more authentic alternative to a big screen TV, but either option will work. A small nook for a mini-fridge and snacks will provide everything you need for a self-contained home theater.
Finish for Fitness
Basements make the perfect location for home gyms – they are naturally cooler than the rest of the house, offer some sound proofing for your cardio iTunes mix, and their exterior doors often allow for easier equipment installation without going up or down internal stairs. Laying hardwood first, then covering different areas with either rubber mats or rugs will help differentiate your equipment and weight room from your yoga nook and cool down areas.
For the Wine Lovers
Another perfect solution for a windowless basement room is to convert it into a wine cellar. Wine requires specific air temperature and humidity levels, so the major expense involved will be installing a separate air conditioner for the room. However, you can expect a return on your investment of approximately $3 in home value for every dollar spent.
---
Read on for more of our suggestion for what home upgrades will or won't help your selling price later!
Home Upgrades that WONT Help You Sell