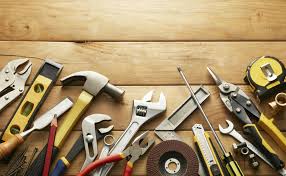 When making the jump from renting to owning a home, many buyers find that one of the most intimidating aspects of home ownership is being able to handle all of the unexpected maintenance issues that can arise, and are now their responsibility to take care of. If you can't call a landlord or condo maintenance team to fix your problems anymore, you probably need to have a wide array of tools on hand, right? Definitely, but there are many tools that you may never use. Read on for a list of the specific tools everyone should own.
---
The Right Ladder
Every homeowner will eventually need a ladder, and probably sooner rather than later. Look for a ladder that is at least 8-10 foot – you'll need it to change the bulbs in the recessed lights that are so popular today, and you may need an even taller ladder if you have fixtures hanging from vaulted ceilings. In addition to a taller ladder, most homeowners find it helpful to also have a smaller ladder or step stool at their immediate disposal. A step stool is perfect for reaching high shelves and the bulbs of low hanging light fixtures, and for hanging pictures and artwork, and isn't as bulky and hard to move around as your taller ladder. Many big box retailers and hardware stores even sell the two as a packaged set.

Outdoor Hose
All homeowners need an outdoor garden hose, and more than one if you have multiple outdoor water faucets. Some homes have a water source on the front and the rear of their home, and you will find before long that you do not enjoy lugging your hose from one side of the house to the other. What size hose should you buy? Always err on the side of overbuying when it comes to hose length. You'll likely also be purchasing a hose storage box anyway, and it's always better to have too much hose than not enough to reach the things you want to water or clean. A 100 foot hose will wind up and store as easily as a shorter one, and will allow you to reach out-of-the way shrubs along your property line.
Screwdrivers & Socket Set
All homeowners need a basic set of screwdrivers, an Allen Wrench set and a good socket set. Almost every bolt and screw in your home can be turned with one of these tools, so if you have a full set of each, you'll be able to handle the majority of the day-to-day issues that arise in your home. If you decide to skip out on one of these sets, you can be guaranteed you will need that missing tool at an inopportune time – it's Murphy's law!
Laser Level
One of the first things you'll want to do after moving into your new house is personalize and decorate it, so that it feels like home. When it comes to hanging beloved family pictures, artwork, mirrors and sconces, a laser level is an indispensable tool. While they are more expensive than a traditional level, they are extremely accurate and most also shoot solid laser beams along the wall where you can hang multiple pieces all the same height.

Wet/Dry Vac
Of all the items on this list, a wet/dry vac may seem like the most unnecessary tool, one that might not be used that often. So why do you need one? At some point, you are going to have to deal with a large amount of water, and it never happens at a good time. Either a toilet will overflow, a pipe will bust, or an aquarium will break. You will at some point have a large amount of water that will need to be removed, and it will need to happen fast before damage occurs.

Of course, other problems will arise from time to time that will require more serious tools, but if you have the items on this list, you will be well prepared to handle the majority of day-to-day issues that occur in your home.
---
Read on for some of our previous blog posts you may have missed!