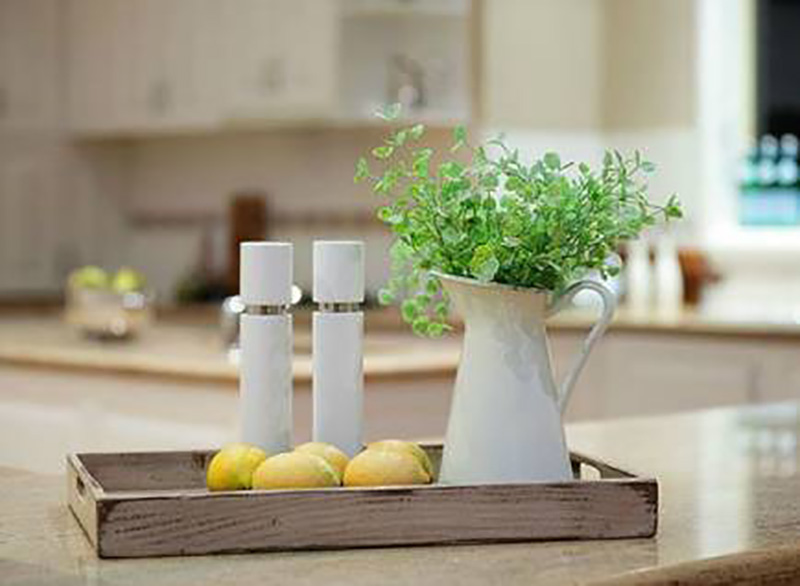 Kitchens can be one of the hardest rooms in your home to stage, and yet they are one of the most important factors in a buyer's decision to make a home purchase.  Our kitchens receive a lot of traffic from family and friends, a lot of wear and tear from our cooking experiments, and even abuse when a flambe doesn't go quite according to plan. However, it is possible to stage your kitchen to sell, even if it is well loved and well used.  Read on for some of our best advice on how to present this important part of your home.
---

Start With the Basics
Before you spend any time or thought on how to stage your kitchen, give it a thorough, deep down cleaning. Make it sparkle. Even if you hire someone to do this for you, be sure to check every nook and cranny to make sure the job has been done completely. Scrub down all baseboards and dust the ceiling fan if you have one. All chrome fixtures should be polished and every light bulb must be functional. The insides of cabinets should be wiped own and just as clean as the counter tops.
Organize It
Alphabetize your spice rack and organize your pantry by size and type of food. Turn all your coffee mugs with the handles facing the same direction, and make sure plates are stacked neatly. When buyers see how well-organized your kitchen appears, they will assume you are just as meticulous about all aspects of your home. Clear all magnets and personal mementos from your refrigerator, and make sure there are no stacks of mail or other items on the counters. A bowl of fruit or a nice cookbook open upon a decorative stand is all you want taking up space on your kitchen island.
Time for Take Out
We aren't suggesting that you stop using your kitchen completely (OK, we are, but we have to be realistic). However, for now your secret family recipe for fried chicken and your favorite Indian curry are off-limits to the family chef. Any food that leaves a lingering scent while cooking should be avoided. Order take-out as much as is practical, and opt for fresh, quick-fix meals like salads and sandwiches when preparing food at home.
Maintain It
You've probably already thought about keeping the sink clear of clutter, but make sure there are no dirty dishes in your dishwasher either. Run it at night if you do cook or eat in, and put them away every morning. Hand wash everything that builds up throughout the day, then dry and put it away immediately. Yes, believe it or not, buyers do often peek inside your dishwasher and anywhere you can remove clutter is best.
Bonus Points
If you don't already have plants in your kitchen, invest in 2-3 to liven up the room. Succulents are a great option, and/or a small windowsill herb garden. Keep a bottle of nice red wine unopened beside that cookbook you have on display, and if you do not already have artwork in your kitchen, move something from another room in to display on an open wall.  Keep your window blinds open to allow natural light to flow in and make the room seem larger.
---
Read on for more home staging tips and tricks!