The phrase "new year new me" doesn't apply only to people, but can also be appropriate for housing trends as well. As the page on the calendar turns to a new year, decorating styles and housing features often begin to change to reflect the wants and needs of home owners and prospective buyers alike. The new year is a time for reflection, for us to reevaluate what makes us happy and what does and does not work well for us in terms of organization, decor and function. You may find that a trendy design feature you added recently isn't as pleasant as you had hoped, and doesn't appear strong enough to withstand the test of time. Or you may simply be bored with something that was a little bit out of your comfort zone in the first place. Now is a great time to take an accounting of trends we are pleased to leave behind in 2022 as we jump excitedly into 2023.
---

The Blank Slate Foyer
In recent years, white has been the overwhelming color for new home builds, from walls to countertops to cabinets and other decorating touches. Most homeowners begin adding their own touches of color and flair that reflect their personality and style shortly after moving in. This could mean painting the common living quarters and adding brightly colored artwork and textiles. The foyer however, often gets left behind during these renovations. In 2023, we say no more leaving the foyer as an austere blank space. Experts suggest separating your foyer from other spaces visually, even if your home's open floor plan leave it winding seamlessly into other parts of your home. Wallpaper has been increasing in popularity again lately, and a foyer is a wonderful, smaller space to try this design element out for yourself. Choose something with a bright pop of color, or a patterned design that reflects your own taste and style. If you aren't on board with wallpaper, you can instead paint your foyer area in a hue that stands out from the other wall colors that are in direct view of your entryway, but is still complementary.
Experts have more suggestions for how to make your foyer stand out with the use of accessories. Most entryways already feature a large lighting fixture, but if yours is rather basic, you can replace it with more of a statement piece that is designed to stand out and draw attention up. A fun and funky piece of art is also a great addition to your foyer, but this doesn't exclusively mean a painting that you would hang on a wall. Instead consider adding a medium to large-sized sculpture to be placed on your foyer table. A brightly colored rug placed in the foyer will also stand out.
Cottagecore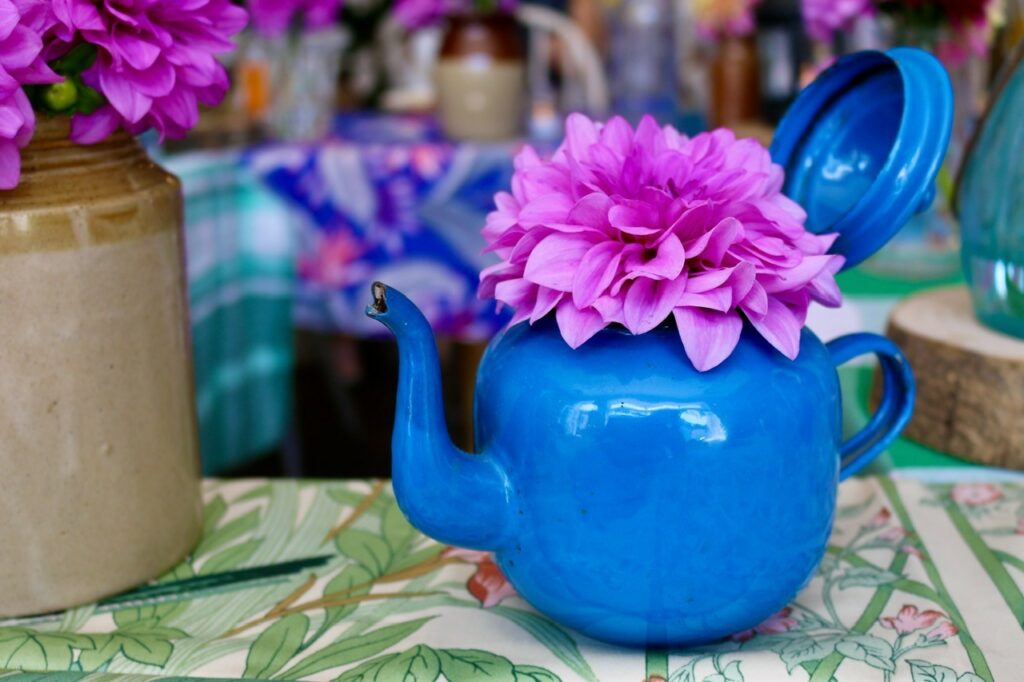 For anyone unaware of cottagecore, this is a design trend that skyrocketed in popularity in 2020, when some interior designers took the farmhouse look a few steps further, incorporating elements such as embroidered pillow cases on our sofas, floral teapots on our accent tables and cutesy designs on rugs and other textiles. The intent was to bring the look and feel of rural and pastoral living into even the most urban of homes, and at first these nostalgic pieces felt comforting and cozy, like a throwback to a country childhood or a certain beloved prairie TV show. Now these elements are beginning to look and feel tacky and outdated instead. If you fully embraced the look, don't feel as though you need to completely redecorate. It's easy to transition from cottagecore to a simple farmhouse or historical look simply by changing out a few key pieces. Restores antique furniture that had been painted in a pastel hue can be refinished, and floral textiles can be replaced with ones displaying a historic rather kitschy look.
---

Empty Kitchen Counters and Hidden Shelves
Somewhere along the way, it seems that too many people were told their kitchens should look like they are never used, touched or entered. Why did we allow kitchens to become so cold and formal? The kitchen is the certain of so many families' lives, and we need to feel OK about them looking lived in. If your kitchen is styled almost exclusively in whites and grays, add pops of color in the form of textiles such as dish towels, rugs and artwork. If you are planning to redecorate, consider painting at least one accent wall in a bright and vibrant color. Also, its time to begin using all of that counter space! We aren't telling you to fill every square inch with clutter, but a live plant on one counter and a large fruit bowl on another will make the space more welcoming and inviting than when all of the counter space is empty and clear. Feel free to place an open shelf over or near your cooktop where frequently used spices can stay out in the open, and leave a cookbook open to a favorite recipe on a countertop stand. It's OK if word gets out that you actually use your kitchen!
---

Overly Formal Living Rooms
How wonderful it would be if we could all agree to make 2023 the year we finally get rid of stuffy rooms that appear as though they are meant to only be seen and not used. This doesn't mean that a formal living room or sitting room can't still be attractive, but design experts are now heavily focused on the functionality of such rooms to make sure that we do not sacrifice livability for style and elegance. All of the common spaces of your house should be family-friendly and practical. If you are ready for a renovation, look for furniture that is as comfortable as it is attractive, and made from performance fabrics that are easy to clean and enjoyable to relax upon. Cover hardwood flooring with low pile rugs that feel luxurious on bare feet, but are also easy to clean after kids and pets have run through the room.
A formal sitting room or living room can also be a multi-purpose room, especially in our current time of virtual work, school and meetings. Place a desk behind the sofa where work calls can be taken and homework completed. A wall of shelving for books can give the room the feel of an extravagant library. If you think of the room as not only a living room but an office, study and library, you'll see how many options you have to make it versatile and livable. If you aren't completely opposed to the idea of a television in a formal space, consider a TV that can be closed behind doors of an entertainment armoire while not in use.
---

Open Floor Plans
You can definitely trace this design change back to the pandemic. When the entire family is spending the majority of their time at home, people need walls! No one wants to be around three people on competing Zoom calls in the same combined kitchen/dining/living room combo. Being able to close the door in a dining room, office or separate living to shut out the sound of your spouse's co-workers or your 7th graders math class could just be the key to preserving your sanity, and your family harmony. Also, having distinct rooms allows each space to feature its own design elements and showcase a different personality. Defined, intimate spaces that offer a cozy escape from others in your home will be all the rage in 2023.
Greige Everywhere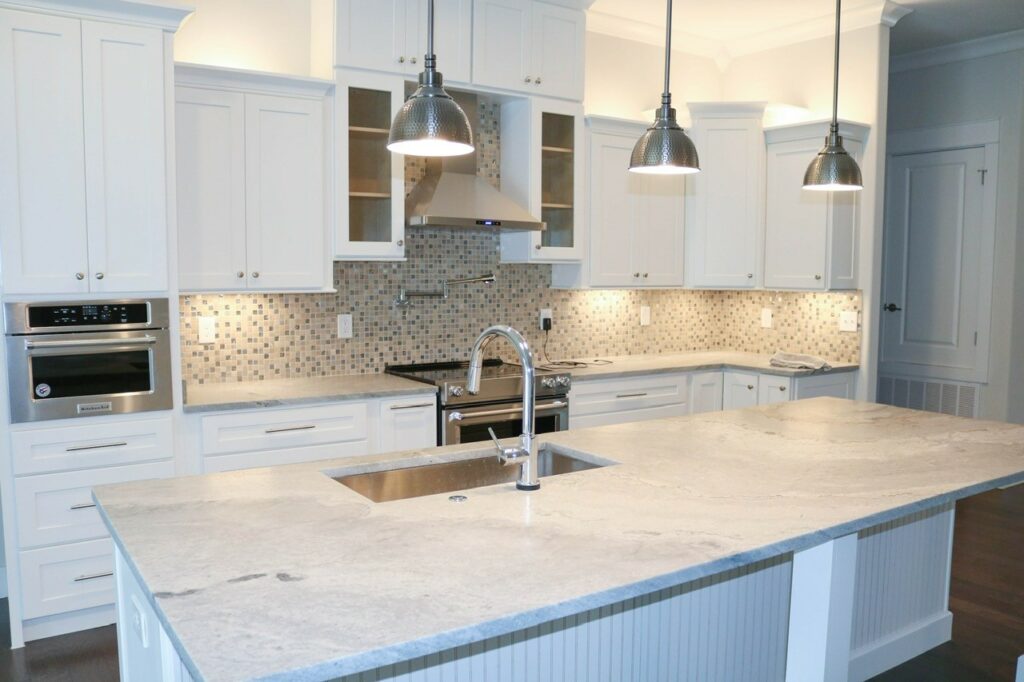 What is it "greige" you ask? Technically speaking, the definition is a color that is a combination of gray and beige. However, when designers speak of greige they often mean an overall color palette that exclusively features shades of white, cream, beige and gray. This neutral color scheme has been extremely common in new housing construction for the past several years, and is also popular with renovators looking to update an older home. In 2023 though, many designers are doubling down on color, and saying goodbye to these colors as anchors of a home's look. Whereas for the past several years home owners might be encouraged to include a "pop of color" or a "bold accent piece" in an otherwise greige room, now the trend will be to bring bright colors in all over your home, from paint to wallpaper to large figures such as appliances and furniture.
Why is now the right time to let go of greige? The pandemic caused many of us to spend much more time at home than previously was common, and especially brought about an increase in working primarily from home. The more time we spend in our homes, the more we want our surroundings to be uplifting and exciting, and to feel personalized toward our own individual taste. The pandemic also made many of us more comfortable with expressing our true loves and interests, braver than ever to try something new and different. So here's to 2023, the year of color!