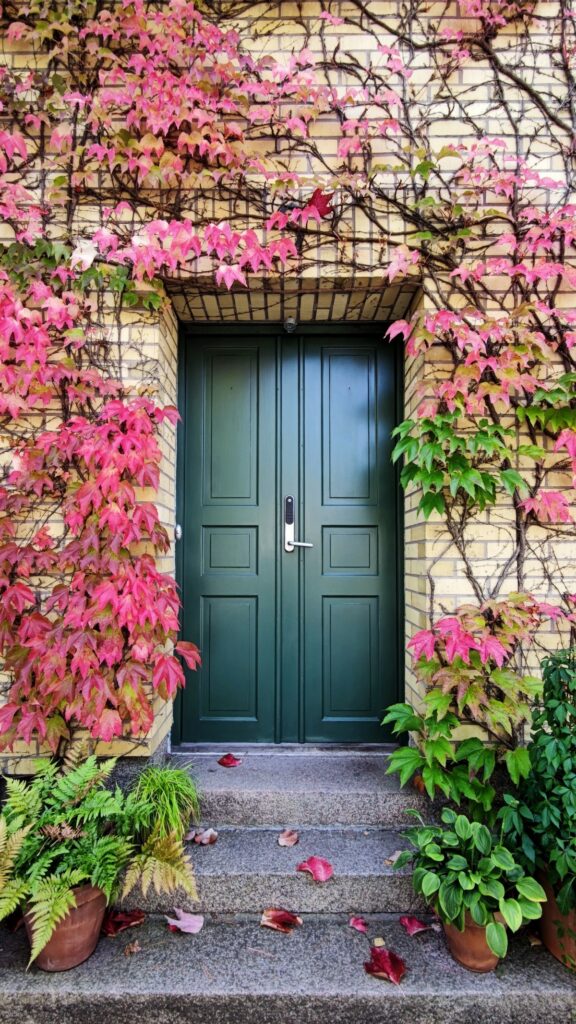 Replacing your front door is one way you can make a seemingly small change to your home's exterior, while vastly overhauling its look and curb appeal. What's more, a new front door is a great way to add value to your home, and depending on what type of new door you select, you may be able to make the change without spending a lot of money. Replacing a front door raises a home's perceived value by approximately $24,000, but when you factor in how many more people may save your listing and/or view your home based on this improvement, the value could be much more when it comes time to put your home on the market.
Changing out your front door is a job many homeowners choose to do themselves, though the task often requires two people to remove the old door and hang the new one. On the other hand, if you are wanting to make a major change such as removing bordering windows or converting a single door to French doors, a professional contractor with experience in door replacement will be necessary. If you are doing a simple replacement, a local handyman service will usually be able to handle the job if you do not feel comfortable doing this yourself.
There are several other things to consider beyond just whether or not this is a DIY job for you, or something that will require a professional. Read on for more details about a front door overhaul.
---

Signs You May Need a New Door
For some houses, a new front door isn't merely a choice made for appearances alone. Here are some signs that there are issues with your front door and it needs to be replaced whether you are happy with the look of it or not:
Difficulty Opening and Closing: Your door may have expanded or contracted over time, and is possibly now warped. A door that is difficult to fit in the jamb is likely also letting in air, moisture and insects.
Air Leaks: If you feel a draft near your front door, this is likely air leaking in through a gap or damaged weather stripping. You can try replacing the weather stripping first, but if you still feel a draft, more than likely the door itself is the culprit.
Wear and Tear: Large dents in a door can represent decreased structural integrity, and indicate the door needs to be replaced. Likewise, any places on a wooden door that appear to be splintering or softened mean you need a new door.
Light Seeping In: Much like with air leaks, light streaming in from around the top, bottom, or sides of your door means the door is not fully closing and sealing properly.
Lock Not Performing Properly: If your lock is not working properly, your house is not secure. While it is possible to replace the lock alone, before you do this, consider whether or not a full door replacement is a better idea for your home.
High Energy Bills: If you think your home just isn't as energy efficient as it could be, your front door may be the culprit. Particularly if your door is original to an older home, it will lack the energy performance of newer doors.
---

Ask for Recommendations
If you are having your new front door professionally installed, ask your friends and neighbors if they have worked with a contractor recently that they would recommend. You may even notice that a house in your neighborhood has recently gone through a front door overhaul – if so, ask those neighbors if they are happy with the service and work they received. Let the contractor know where you heard of them and who recommended them to you. Positive reviews and word of mouth are important for every business, and even if you do not receive a discount, you may receive better service once the connection is made.
If you don't have any local friends or nearby neighbors to discuss contractors with, try checking with your local lumberyard or hardware store for a recommendation. Contractors and home remodeling professionals spend a lot of time picking up tools and materials, and often form a rapport with the employees at the local hardware store. You can also conduct a general search online, but make sure to read the reviews, and remember that the first result you find in a search isn't always the most qualified vendor.
Plan Your Purchase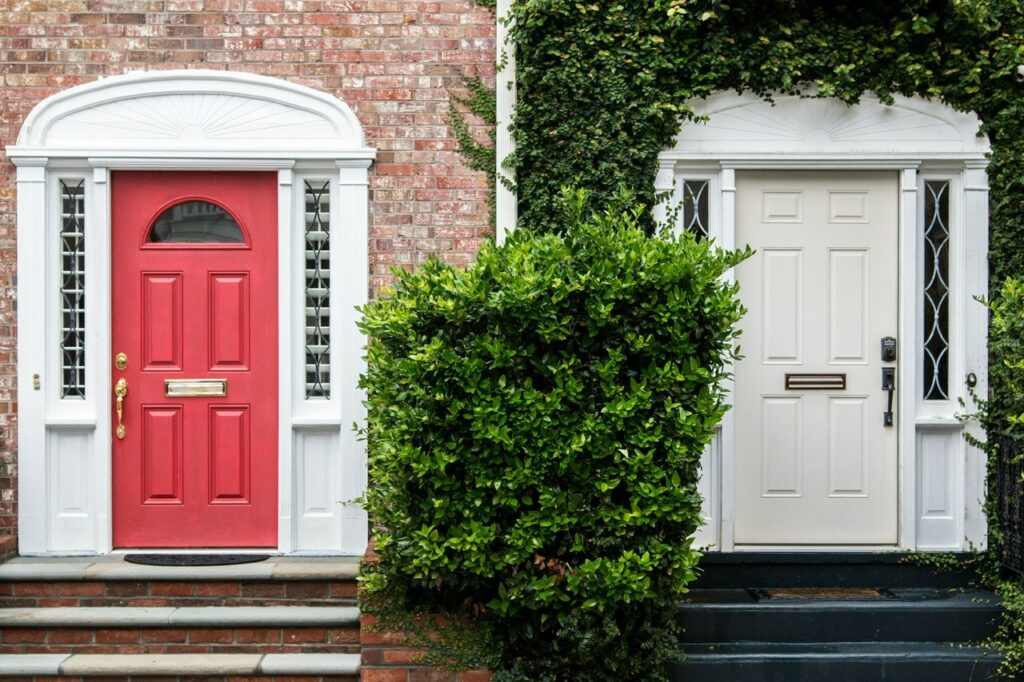 Once you have decided that a front door replacement is a great investment for your home, you should begin researching the different types of entry doors on the market. Several decades ago, almost all front doors used in residential construction were made of wood. Many people still choose wooden entry doors, due to their elegance and durability, but they are growing less common simply due to the maintenance required to keep them looking their best.
Recently fiberglass and steel have become popular as entry door materials, and both require less maintenance than wood. Fiberglass doors can be made to look much like their wooden counterparts, and their smooth finishes can be painted to match your home or stained to look even more like wood. Countless design options are on the market, and they are easy to size to fit irregular entryways. You can also purchase a fiberglass door with or without a decorative glass insert. All of this versatility does come at a price, as fiberglass doors tend to cost more than ones made of steel.
Steel doors are not made so much for appearances as they are for security and durability. When you hear the term "steel" you may assume that these doors will have an austere metallic look, bu that is not necessarily the case. When steel doors are made, they are covered with a baked enamel finish that is available in many different styles and colors. Your door frame will also be made of this same specially designed and finished steel. When put together, the door and frame are tougher and more secure than any other type of door available on the market. Fiberglass can crack over time, and wood can splinter, but steel is almost impervious to damage. Even if someone attempts to forcefully enter your home through the front door, the most that can happen to a steel door is that it will dent. This same security means that your steel door will be incredibly energy efficient, and give you more protection from the elements.
---

Cost Considerations
The average front door costs between $200 and $3,000, which is quite a large pricing range. This means you can spend as little or as much as you want on a new door, and there's likely something on the market to fit every price range. But keep in mind, this is the cost of the door only. Labor will drive up the cost unless you intend to conduct the replacement yourself.
The biggest factor in determining the cost of the door itself is material. You can normally find a good steel door for around $500, and even the more expensive ones rarely cost more than $1,000. Most hardware stores keep several styles in stock, so you likely won't find yourself waiting for manufacture and shipping. Meanwhile fiberglass doors are rarely found for under $1,000. They are made custom to your specifications, so you will need to know exactly what you want when you order the door. Depending on the customizations, prices could reach to several thousand dollars. Wood doors fall somewhere in the middle between steel and fiberglass when it comes to price.
Professional installation will of course add to the cost of your front door upgrade. Nationwide the average cost of labor alone for replacing a front door is around $1100, with prices in the Atlanta area trending slightly higher.
---

Follow the Rules
Many neighborhoods include front doors in their list of items that can only be changed or replaced with specific approval from their homeowners association. Check the covenants you agreed to when purchasing your home, and follow the procedure for requesting to make the change. This will likely mean providing pictures of the new door, along with a description of any architectural changes you may be making to the surrounding area. A timeline for completion of the project may be needed as well.
Will it Pay Off?
Most home improvement projects will increase the amount you list your house for if and when you decide to sell. However, don't look for a dollar for dollar return on your investment or you are likely to be disappointed. According to a recent national study, homeowners saw an average return on investment of 75% following a door replacement and subsequent home sale. It is perhaps better to consider the more positive first impression your home may give after this upgrade, and how that impression can generate more interest for your home on the real estate market.