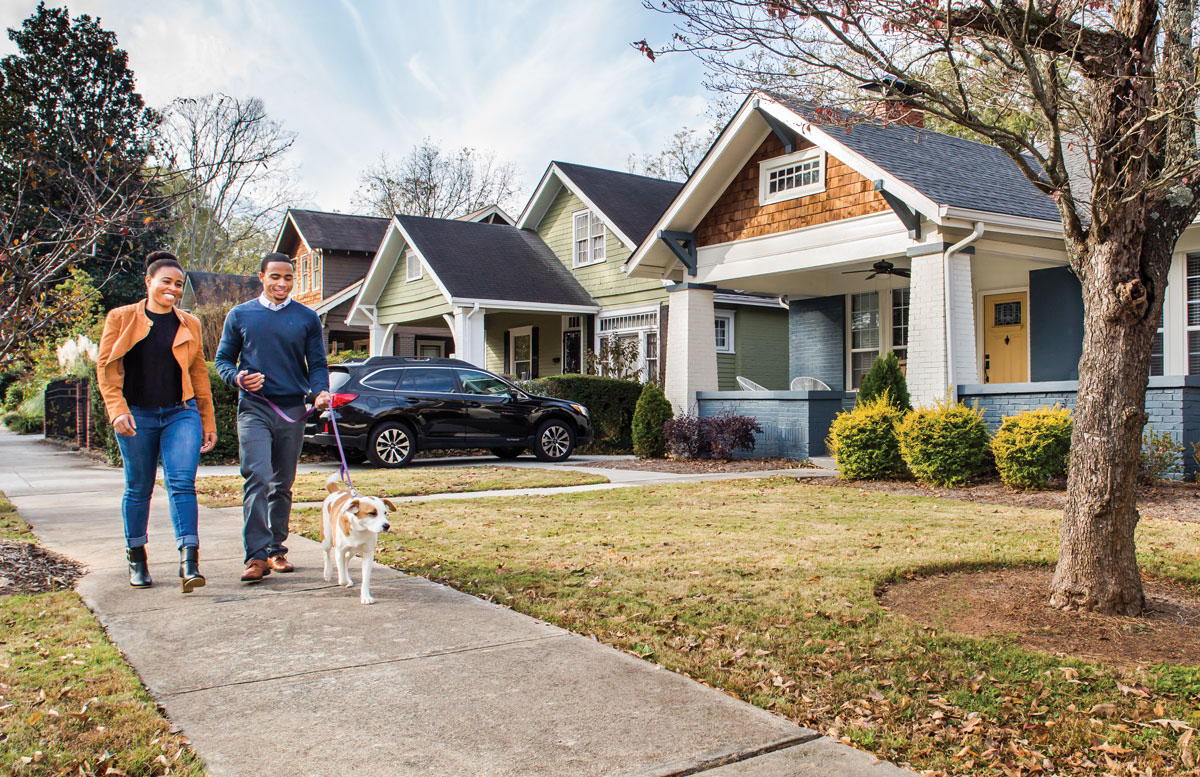 Atlanta may be known for its traffic, but not all of us are a part of the daily car grind. Many Atlantans have managed to organize their work and home life in a way that they rarely, if ever, need to get in their cars (if they have them!). Whether you prefer life without a car at all, or you just like having the option of strolling through your local neighborhood from your home to work to restaurants and shopping, we've compiled a list of some of the most walkable neighborhoods in Atlanta.
---

Virginia Highland
Around 9,000 people call Virginia Highland home, with many living in the idyllic tree-lined streets featuring historic homes and renovated bungalows that feel far removed from the city in both space and time.  This is an optical illusion though, because you are only minutes away on foot from multiple restaurants, bars and boutiques. Residents also enjoy being only a short stroll or bike ride from the Atlanta BeltLine and Piedmont Park.
Midtown
It may seem like more with so many people coming in and out to visit the restaurants, retail and greenspaces, but around 17,000 folks call Midtown home. Those that do cite their walkable proximity to amenities like the Atlanta BeltLine, Piedmont Park, the Atlanta Symphony Orchestra and the Atlanta Botanical Garden as some of the main advantages to living this in this corner of the city. Over 300 restaurants are located within the confines of Midtown, meaning you could dine out for almost a year before you exhaust all your walkable dining options. Midtown is also friendly to those who enjoy getting around by bike, and is located near multiple transit options.
Inman Park
Inman Park is definitely a smaller neighborhood than Midtown, home to only about 4,000 restaurants, but it still includes everything you need to accomplish most of your daily errands on foot. It is also located along the Atlanta BeltLine and near the beloved Krog Street Market.  Housing options such as condos, older bungalows and recently converted lofts surround a vibrant business and restaurant area located in the center of the neighborhood, with over 120 restaurants, coffee shops and bars.
Candler Park
Another of the smaller favorites for walkability is Candler Park, one of Atlanta's first suburbs. Just over 3,000 people call this pocket of downtown home, and the entire neighborhood is on the National Register of Historic Places. Almost 100 restaurants are located in or on the outskirts of Candler Park and residents can walk on average to at least 5 restaurants within 5 minutes of their homes.
---
We have beautiful homes available in all of these walkable neighborhoods.  Check out our current listings right here!