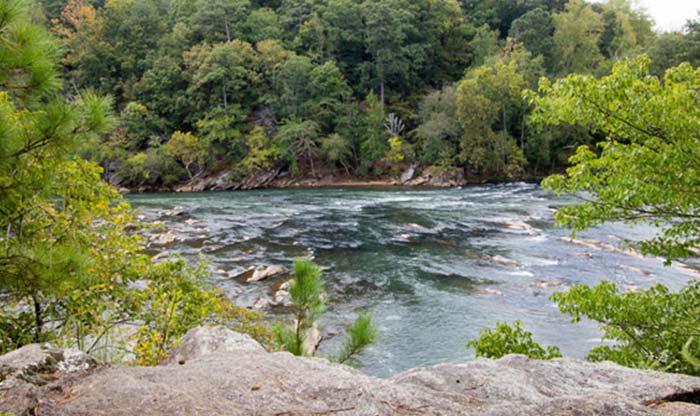 Does the warmer spring weather have you itching to get outdoors and enjoy the fresh air and blooming dogwoods? If so we know how you feel. Thanks to quarantines and social distancing, this past winter has seemed like the longest on record, in spite of the lack of snow and only a handful of days with seriously cold temperatures. We've all been waiting impatiently for warmer and dryer weather so we can get outside and get back to nature. Now that the time has come, many of us still do not feel comfortable travelling very far from home.
---
To help you find the perfect spot to get outside without leaving Atlanta, we've compiled a list of some of the greatest hikes that you can find right here at home and close to downtown. Each of the trails listed below is located inside the perimeter, or else only a short drive outside of 285. Some you have probably heard of, but others have been hiding right under your nose, surprisingly close to the center of our city.
These trails are not merely walks through the city park though – these are real deal hiking trails, so make sure you come prepared. Waterproof hiking boots and socks are a must, along with breathable hiking clothes made from moisture wicking and breathable materials. A water bottle for each person and canine hiking is also required – you should never underestimate the effects heat and exertion will have on your hydration. A thorough coating of sunscreen and bug spray may also be necessary, particularly if you burn easily or if you tend to attract the painful bites of mosquitoes. We also recommend pants instead of shorts, leaving no skin exposed between your pants and shoes. You might be surprised by how much wildlife you will find in these urban oases, and be aware, snakes could be anywhere!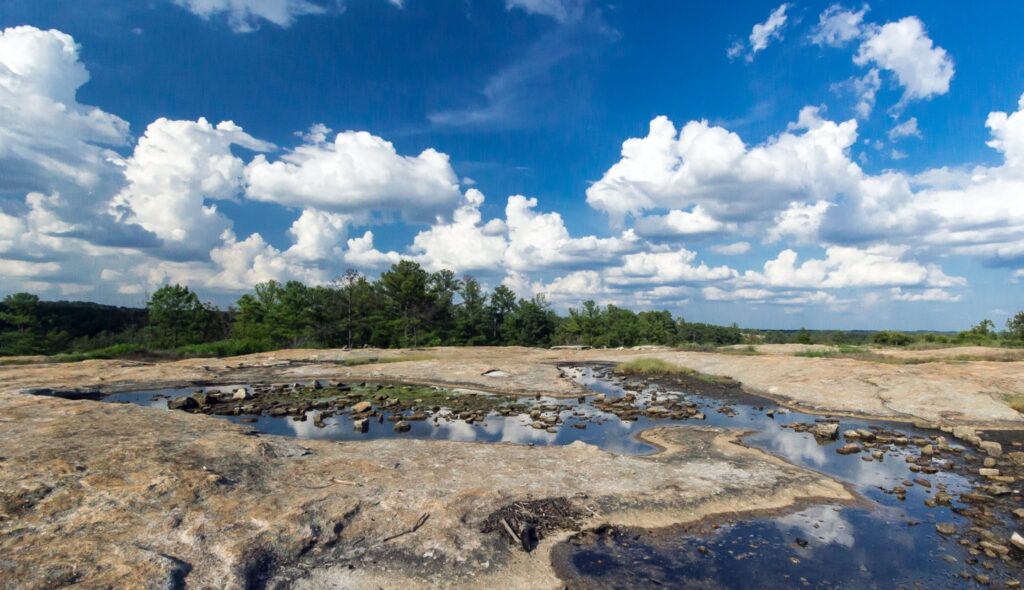 Arabia Mountain is known for both its beauty, and its stunning, "moon-like landscape" that will easily make you feel that you have stumbled into another world. The area covers enormous fields of exposed granite, several glassy lakes, and two weather-worn granite mountains, all with more than 30 miles of trails for hiking, walking and running. Arabia Mountain is unique because of it's wide and barren landscape, which is completely unlike the wooded trails you are likely used to. Hike the trail after a rain shower to see the barren granite mountain top transform into a beautiful field of shallow, water-filled pools.
---
Along the hike, you'll also find waterfalls, rocky terrain, and even some historic ruins. If you aren't impressed with the distance of the Mountain trail, add on the Forest Trail, which follows an old rock quarry and the banks of Arabia Lake.
Arabia Mountain Trail – 3787 Klondike Road, Stonecrest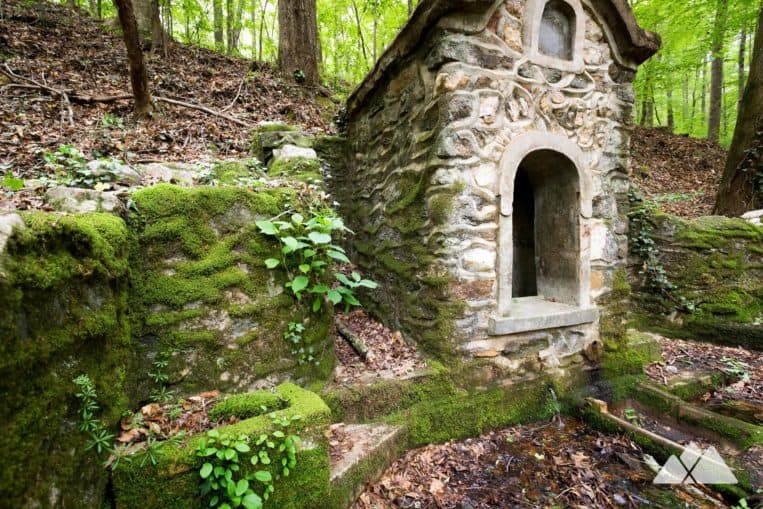 Even lifelong Atlantans may be shocked to learn that there is a natural waterfall inside the Atlanta city limits. Located only 20 minutes from downtown within the 120-acre Cascade Springs Nature Preserve, you can easily find this hidden gem on a family friendly, 1.9 mile hike. In addition to the waterfall, you'll also cross through an intown forest filled with wildlife like deer, birds and turtles. Your path will also meander across streams, traverse through a Civil War battlefield, and give you a peek at the moss covered ruins of a stone spring house. Civil War earthworks used in the Battle of Utoy Creek still remain deep in the preserve, now only faintly visible under blankets of fern and ivy.
---
Cascade Springs Nature Preserve
– 2852 Cascade Road SW, Atlanta
One of the most bizarre trails you'll find anywhere is the Doll's Head Trail at Constitution Lakes Park, where, as the name implies, your trip into the woods will lead you to an interesting collection of doll's heads and broken toys repurposed as art. The park is built on the site of a 19th-century brick factory, but is now a 125-acre nature preserve filled with wildlife and overgrown vegetation. Walk along the trail long enough, and you'll likely stumble upon one of the many snakes that seem to thrive in the wetlands, along with several species of waterfowl.
---
Early mornings tend to be an especially beautiful time to visit when blankets of fog cover the park's namesake lakes. Be forewarned though, while Doll's Head Trail is a family-friendly experience, some younger kids may be a little distressed by the art you'll find along the trail.
Doll's Head Trail – 1305 South River Industrial Blvd SE, Atlanta
A favorite of kayakers thanks to its Class 1 and Class 2 whitewater rapids, the Chattahoochee River's Palisades section, is one of the river's most scenic areas in metro Atlanta, so no wonder the trail that runs along side it has become so popular with urban hikers. The East Palisades section is home to more than just beautiful river views though.
---
Throughout the almost 5 miles of trails, you'll catch site of the city skyline from some of the higher elevations, but you will also be treated to an otherworldly bamboo forest, historic ruins, and sandy beaches that are a favorite of the dogs that frequent the trail. Don't be surprised if you hear the excitement as teens jump from the jagged rocks of the trail into the refreshing water of an old-fashioned swimming hole below. To visit, you'll pay $5 for a parking day pass, or your visit is included with a
Chattahoochee River National Recreation Area annual pass
.
East Palisades Trail – 1425 Indian Trail NW, Sandy Springs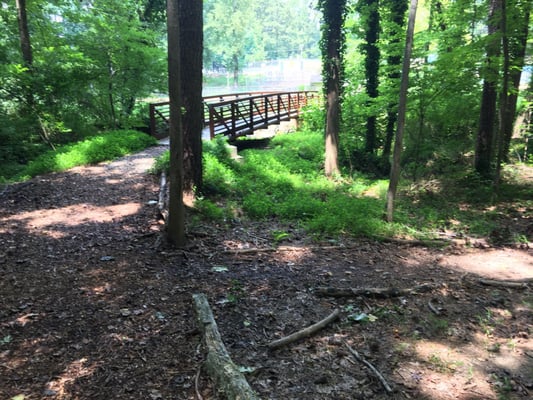 You would never guess that you are just steps from I-85, while you are enjoying a trek through the Elwyn John Wildlife Sanctuary in North Druid Hills' Kittredge Park. The 1.7 mile trail is mostly unpaved and runs through woods, around a small nature preserve, and even by a creek and tiny waterfall with a viewing platform for enjoying a break from your hike or a quick picnic lunch. A longer extension of the trail leads uphill from the creek, but is mainly in place to connect the park to a nearby neighborhood.
---
Elwyn John Wildlife Sanctuary Trail
– 1520 Kittredge Park Road NE, Atlanta
Emory University is hiding some of the best green space in the city right under your nose! The campus's Lullwater Park is a 154-acre urban oasis, with trails winding through that will lead you to all sorts of surprises. A 210-foot-long suspension bridge takes you across a deep ravine, leading to miniature waterfalls and the ruins of a 1920s powerhouse. You'll also be able to catch site of the Tudor mansion that is home to the President of Emory University.
---
A piece of advice: Parking at Lullwater Preserve can be tricky and will result in a parking ticket if you don't handle matters appropriately. Use the paid parking deck at the VA Medical Center entrance on Clairmont Road or the Hahn Forest Park Entrance where there's a small parking lot. Park and walk the trail under the road towards Lullwater for about 10 minutes until you see the suspension bridge.
Lullwater Preserve at Emory University – 1463 Clifton Road, Decatur
Murphy Candler Park is tucked away on the north side of Brookhaven, with 100 acres of leafy forests, ballfields, a small lake, and luckily for urban hikers, a 2 mile trail where you can enjoy scenic views and wildlife still in view of the city skyline. With very little elevation change along the trail, Murphy Candler is a favorite of both runners and families with pets and young children. You'll cross several small streams as you traverse the trail, and later a wooden bridge allows the trail to cross North Fork Nancy Creek. Another stretch of the trail takes you near the sandy and sun-drenched. banks of the western shore of Murphy Candler Lake, where ducks and geese gather to waiting for frequent handouts from visitors (we however cannot recommend sharing your lunch with birds!).
---
Candler Trail – 1551 West Nancy Creek Drive NE, Atlanta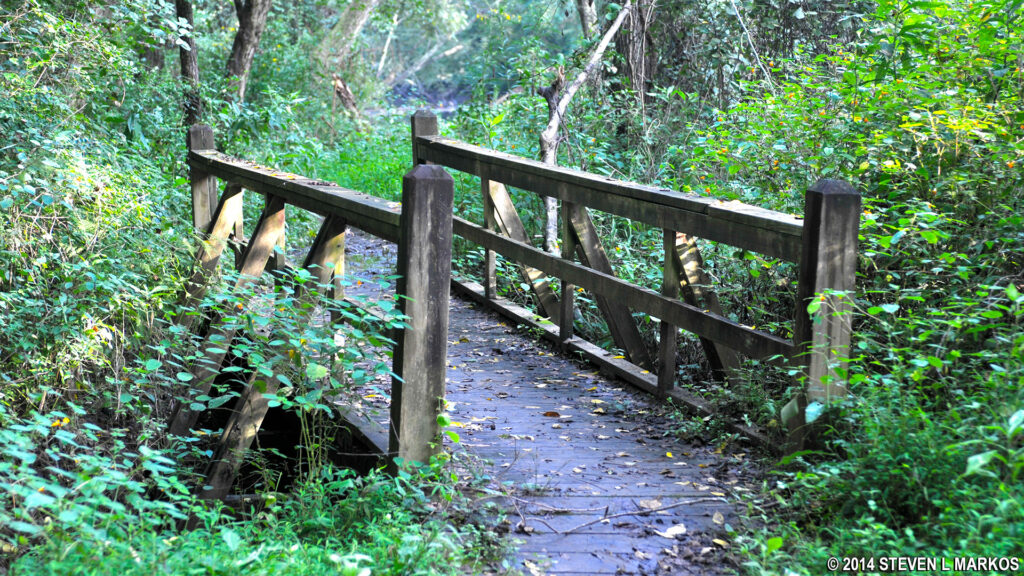 Like the East Palisades Trail mentioned already, the Powers Island Trail follows along the bends of the Chattahoochee River, but this trail is less popular for some reason. It's just as beautiful though, and allows for a more peaceful way to find some solitude in the city. Along your hike you'll find the trail mostly unpaved and narrow, with stunning views of the river and a visit to Powers Island after crossing a small metal bridge. Just like the East Palisades Trail, you'll still find a small bamboo thicket, and a forest filled with ivy, wildflowers and mushrooms.
---
Powers Island Trail
– 5450 Interstate North Parkway, Sandy Springs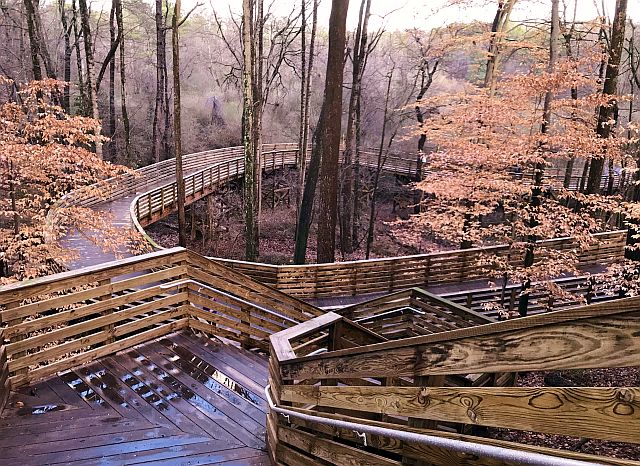 The South Peachtree Creek Trail, which travels from Decatur's Mason Mill Park to Medlock Park, was expanded a few years ago and now clocks in at a manageable 3.6 miles round trip. With tons of beautiful scenery and moderate elevation-changes, this trail makes for a beautiful and fun family-friendly workout. The paved boardwalk connects two parks in Decatur — Mason Mills Park and Medlock Park — as it meanders through tall trees and over creeks. A mixture of paved trails and raised wooden boardwalks, wind through forest treetops beside a tumbling creek, passing through the historic Decatur Waterworks.
---
South Peachtree Creek Trail
– 1406-1458 McConnell Drive, Atlanta