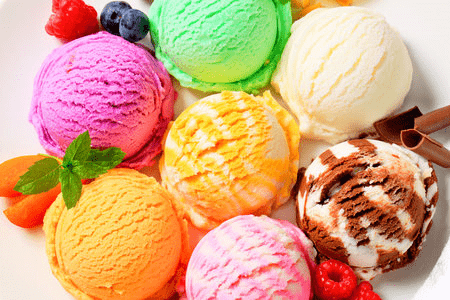 The summer heat is at its peak and all over Atlanta we are looking for ways to cool down and shake off the summer doldrums.  What better way to escape from the July heat and humidity than at your favorite local ice cream shop? We've compiled a list of some of the best spots in Atlanta to cool off with a sweet, frozen treat. We aren't limiting ourselves to only traditional ice cream though – ice cream sandwiches, rolled Thai-style and creamy Italian gelato are all welcome in our favorites list!
---

Butter & Cream Ice Cream
When Butter & Cream Ice Cream opened in the summer of 2014 in downtown Decatur, they joined an already crowded and thriving food scene, and quickly staked their claim as favorite dessert shop. Ice cream flavors are handcrafted in small batches and made with natural ingredients. Butter & Cream has been so successful that they have opened an Old Fourth Ward location, on the BeltLine overlooking the Eastside Trail Extension.
Butter & Cream Ice Cream
Where: 416 Church Street, Decatur, GA 30030
Our Favorites: Kids of all ages, and the young at heart, will love the Red Hare Root Beer Float, but we are also partial to Butter & Cream's signature Honeycomb Forest flavor.
Paulo's Gelato
Paulo Dallo Zorza opened his gelateria in Virginia Highland in 2000, and the shop is now a favorite "must-visit" spot for Atlantans and visitors alike. Because gelato is made with only 2% to 7% milkfat depending on flavor, it is considered by many to be a healthier alternative to traditional ice cream.  Paulo's features 62 flavors, with standard ice cream staples like Cioccolato (basic chocolate), Fragola (strawberry) and Malaga (rum raisin), and more exotic concoctions like Rose, Jasmine, and Fico (made from local figs).
Paulo's Gelato
Where: 1025 Virginia Avenue, Atlanta, GA 30306
Our Favorites: Treat yourself to the Cioccolato all'arancia, which has a delicious and decadent chocolate orange flavor, or for a lighter treat, you can't beat a crisp, lemony Limoncello on a hot Atlanta afternoon.
Queen of Cream
What started as a simple ice cream cart in 2014 quickly grew and in 2015, Queen of Cream was launched in a sunny storefront in Inman Park.  Ambitiously claiming to be the only ice cream spot in Atlanta to make all their flavors 100% from scratch, the Queen of Cream also sources their dairy products from a family-run farm in Waynesboro, GA. A second location is now open at Lenox Mall, bringing traditional and fun seasonal flavors to the north side of the city as well.
Queen of Cream
Where: 701 Highland Avenue NE, Atlanta, GA 30312
Our Favorites: Try the Mint Chocolate Cookie Dough, the perfect solution for those of us who just can't decide between the two, and for the caffeine addicts, the Cold-Brew Coffee with Cocoa Nibs can't be beat!
Roll It Up Ice Cream
If you haven't yet given Thai-style ice cream a try, travel a little north of Atlanta and check out Roll It Up, located along the Buford Highway food corridor – it's delicious AND fun to watch!  Rolled ice cream is flash-frozen onto a cold metal surface using liquid nitrogen, then carefully scraped to form rolls of creamy, sweet goodness. Unique flavors include a taro ice cream called Purple Rain, Coffee Break made with condensed milk, and the Thai tea-based Thaiphoon. Any flavor can then be topped with various fruit, chocolate, or marshmallows, and syrups like caramel, mango and kiwi.
Roll It Up Ice Cream
Where: 5150 Buford Highway, Doraville, GA 30340
Our Favorites: S'Mores Night, with graham crackers and marshmallows is beautiful and tasty, but we also love the traditional Thai tea flavored Thaiphoon.
Sweet Stack Creamery
What is a Sweet Stack you ask? We can tell you, but we suggest you stop in and see for yourself! At Sweet Stack, the house specialty is a giant stack of ice cream in between cookies or donuts of your choice (though cones and cups are also available). And, Sweet Stack is the perfect place to satisfy your late-night sweet tooth, because they're open until 1am on Friday and Saturday nights!
Sweet Stack Creamery
Where: 25 Piedmont Avenue NE, Atlanta, GA 30303
Our Favorites: The kids go crazy for Cookie Monster, cookie dough ice cream mixed with Oreos and blue frosting, but our adult favorite is the Cuban Coffee Cream with a donut to complete the stack.